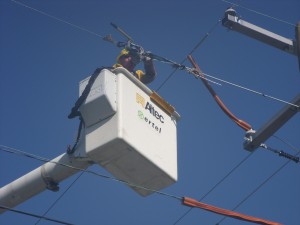 Ertel Construction, Inc., offers Utility Construction, Installation and Repair services. Each day, seasoned crew members provide infrastructure placement, including  trenching, directional boring, circuit corrections and reconductoring.   Our storm team is  highly skilled in rapid response to disasters. Their extensive knowledge of the industry makes them an asset to any company's team.
Maintaining Network
Maintenance teams are trained to perform numerous tasks, ranging from replacing utility poles to installing new equipment on existing lines.  Crews work to replace lightning arresters, replace damaged network facilities and perform other repair and proactive tasks to reduce service outages and service dips.
New Network Installation
Team members are trained to provide efficient new installation services within our clients' scope of work. We can install aerial or underground cabling, meeting clients' standards for responsiveness and with minimal disruptions to end-user customers. Crews are trained in the installation of fiber optic cable and copper facilities.
Reconductoring Projects
Ertel Construction, Inc. crews are trained to undertake the replacement of conductors with new, more advanced conductors to meet growing electricity needs.